Service & Service Reporting
Many in the organization need to touch service issues at various stages. As important as this area is for growing a great relationship with the client, it is the very point that because so many touch service issues, it can be one of the greatest areas of dropped hand-offs and follow through.
With MaxaWare®:
The system generates quick reports; with, Originating Technician, Assigned-To Technician, Associated Warranty info and more.
Attach POS / Proposals with charge-for-services; and, compare proposed vs. Invoiced Service amounts.
New graphical display provides at-a-glance view of service concerns.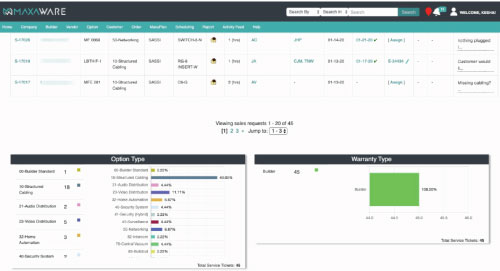 What are they?
Now … GPS Mapping For MaxaWare® Users
Get Live Locations Based Upon System Generated Schedules.
Color-Code Users and Turn On Live Browser Location for Users

Quick, Custom Proposals!
Create multiple cover pages for POS / Proposals to fit Sales Presentation.
Change font, background color and layout of components.
Add images and system tags to personalize the template for different clients and sales personnel.